1947 All Star Game - Recap
Unlike the '46 game, this one was a stark contrast to its predecessor. This day would not belong to the hitters as winds in Wrigley stirred and the pitchers were at the top of their game. Ewell Blackwell and Hal Newhouser matched one-hit, three-inning performances. In the fourth inning, Frank Shea gave up a home run to the National League's Johnny Mize.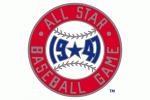 Then the American League tied it in the sixth inning and got the winning run off of Johnny Sain in the seventh. Bobby Doerr singled, stole second, took third on Sain's errant pickoff attempt and scored on a pinch single by Stan Spence. It was an anti-climatic ending to a great pitching duel.
The American League's 2-1 victory gave it a 10-4 lead in the series. These lopsided totals were beginning to upset National League president Ford Frick who was concerned that the fans may lose interest. As most could have predicted, it was going to get worse.
(from baseballalmanac.com)